HAPPY'S GONNA HAPPEN ...ON THE HIGH SEAS

October 8 to 15, 2011
SORRY, OUR CRUISE IS SOLD OUT!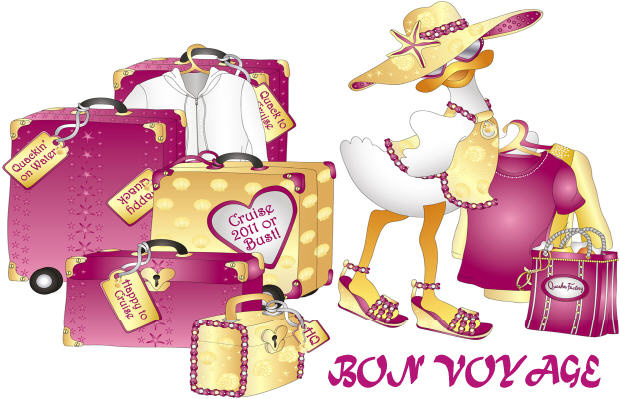 A Message from Scott Denny,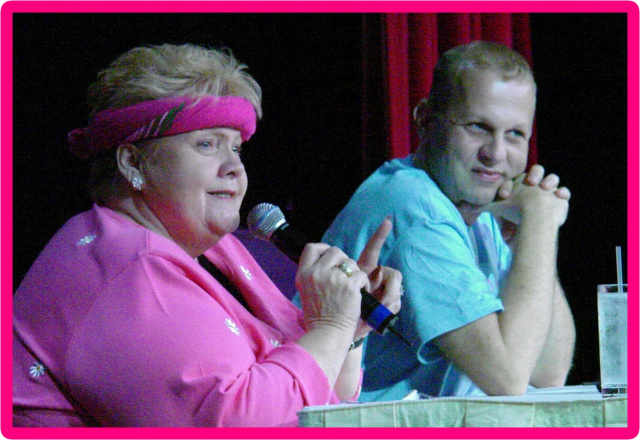 Quacker Cruise Group Manager
June 27, 2011
Dear Friends,
Thank you so much for your patience and understanding through the last two weeks. I want to echo David's sentiments, and let you know that Jeanne's loss has been a personal tragedy for me as well, and that my thoughts and prayers have been with the family and her staff. Jeanne gave me a terrific opportunity to handle her trips, and as a result I have met so many wonderful new people, and I am forever grateful for that. And my thoughts have also been with all of you whom she touched so greatly, knowing that she was your special friend who made a difference in your lives through her fashions and philosophy.
As we move forward to continue Jeanne's dream for this cruise, we will have some programming changes. We will of course still have our favorite activities such as the Rubber Ducky Races, the cocktail parties, the special presentation of The Queen of Bingo, and our finale event "The Best Time of Your Life. But, our welcome event will be a glorious tribute to Jeanne Bice, featuring a wonderful video presentation with interviews from her friends and family who know and loved her so well. We will also have a seminar "Keeping Jeanne's Legacy Alive – The Future of Quacker Factory" allowing you to hear from the people she worked with and allowing you the opportunity to share your thoughts of new designs in fashion that you would like to see happen over the next few years.
We also plan to have some smaller "breakout" events that will help you learn how you can connect to other Quackers through the internet so that you can continue your friendships that you make on the trip through such sites as yahoo, facebook, etc. Even if you are a computer newbie we can show you how easy it is to use and introduce you to people who might know more. Using the internet can be a great way to continue communication and keep Jeanne's spirit and dreams alive.
Some other activities may include a session on "How to Host a Quacker Tea Party" and sessions on Quacky Crafts and Scrapbooking, and possibly a relay for life to raise money for cancer awareness on the ship! We are still in the works of finalizing the event schedule, so there may be some new things and new surprises that come up in the next few weeks!
Rest assured, we want to make this the most special trip ever. Jeanne would love that. I know she wants all of you to come and make the new friends that you were meant to meet on this trip. And laugh, love, and make it the time of your life!
Please do not hesitate to reach out to me in the next few weeks via phone or email.
May you have peace and comfort in the days ahead, and smile because you know Jeanne Bice loved you so much. You all touched her life as much as she touched yours. And I know the family and the Quacker Factory are forever grateful for all that you have done for them.
Sincerely,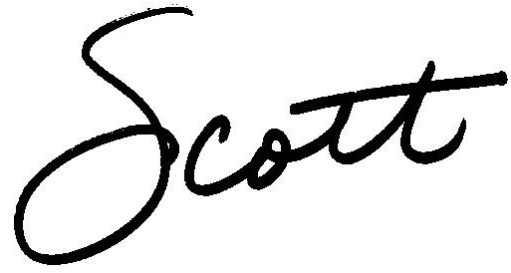 Jeanne Bice's
Quacker Cruise 2011
Overview
The Quacker Factory and friends will depart Fort Lauderdale, Florida and explore some of the Caribbean's favorite cruise destinations. The Oasis of the Seas will take you to the exciting locales of Nassau, St. Thomas, and St. Maarten. And with three days at sea, we will guarantee that you will experience the most exciting destination of all— The Oasis of the Seas!
Never before in the history of cruising has there been a passenger ship quite like the Oasis of the Seas. It's not just a ship–it's a resort! With over 20 restaurants and bars, over a dozen elegant and traditional shops covering over 10,000 square feet (including the first ever Coach store at sea), a carousel, five exciting entertainment venues (one featuring the first full-length Broadway musical at sea), two simulated surf riders, two rock-climbing walls, your adventure exploring the ship will never end! The elegant and distinct design are unparalleled, and you will be amazed at the intimacy it still offers, even though it can accommodate over 6,000 passengers. With its seven specifically designed "neighborhoods," the Oasis of the Seas will thrill, amaze, and astound you, even if you have cruised many times before. You have never seen anything like it!
Imagine sailing away on this spectacular vessel with hundreds of new and old friends who share the Quacker Factory love and spirit. The Quacker Factory along with Angel and Maria of QVC will offer private cocktail parties, new seminars, and host many fun events and private entertainment just for our group that you and all of your family members (including those loyal Quacker husbands and kids) will enjoy. We are even bringing a special theatrical production onboard, The Queen of Bingo, just for Quacker Factory cruise guests! And past Quacker Cruise guests will be delighted to know that the Quacker Factory's special vocal group–The QuackTones– will be back to serenade our group! This trip will be a great time to relax and get away from it all, and we guarantee you will make some new friendships that could last your whole lifetime!
Besides all of the exclusive events, Quacker Factory is preparing a special unique gift package (included in your cruise pricing) just for the Quacker Cruise guests only. These one of a kind items will not be available anywhere else. There will be something special for each and every member of your family to take with you after the trip, giving you even more memories of the biggest and most exciting Quacker journey ever! Whether you are coming with a dozen people, or just by yourself, we know you will have one of the greatest adventures in your life! You do not want to miss this one! Happy is going to happen on this cruise!
GIFTS AND AMENITIES
All of these are included free with your cruise package! This is just a sample of what you can expect. Only guests booking the Quacker Cruise will be entitled to all gifts and amenities. You will be a Quacker Queen on the Oasis of the Seas!
A Tribute to Jeanne Bice and the magic she brought to all of our lives. This happy program will be our kick-off event and start the cruise just as Jeanne planned with love and laughter.
Several Exclusive Quacker Factory Events: Patrick Hoy of the Quacker Factory along with Angel and Maria of QVC will offer special events just for our group – from seminars, games, crafts, meetings, and back by popular demand, the Rubber Ducky Races! We will be the envy of all other passengers aboard the Oasis of the Seas!
Quacker Cruise Deluxe Tote Bag: Your deluxe tote bag will prove handy as an extra bag to take to the beach, or into port while you shop, and most importantly to cart your cruise treasures back home! And once you are home, you will have fond memories of your Quacker Cruise every time you use it at the office, school, or on your next vacation!
A Special "Quacker Cruise" Gift Package: The Quacker Factory is carefully selecting some exceptional Quacker Cruise gifts just for our cruise. Because you are the special guests, we will be choosing items that won't be available to anyone else but you! Our last cruise gifts have become collector's items! In the past we have had beach towels, picture frames, sunglasses, and much more!

And at all of our events, we'll be bringing along daily giveaways as a special additional treat!

"Quacker Cruise" Souvenir Pin: This specially designed custom made lapel pin will be a welcome addition to your jewelry collection and a great memento of your Quacker Cruise!
Private Welcome Aboard Cocktail Party: The Quacker Factory wants to welcome you in a special way so what better way than with a cocktail party? Join us for complimentary cocktails and hors d'oeuvres, live music, and fellowship, and the return of The QuackTones!. Click Here To See A Video Of The QuackTones
The Queen of BINGO: For the first time ever, we will present our own show, "The Queen of BINGO". This Off-Broadway show is just for our group and is sure to be a big hit. Click Here for More Information On The Queen of BINGO
The Best Time Of Your Life: This is the event where you're the star! Select Quackers in our group will have the chance to take to the stage to show everyone why they're having "The Best Time Of Your Life."
Quackin' After Hours: On the Quacker Cruise, the party never ends! Join the Quacker Factory and Cruise Everything gang for intimate optional after dinner and show events – whether its singalongs with Patrick Hoy and the QuackTones in the Schooner Bar, Salsa with Nery Garcia in the Salsa Club

–

it will be a fun end to your Quacky Day!

Private Farewell Cocktail Party: As the cruise comes to an end, We will want to wish you a very special goodbye with live music, complimentary cocktails, and hors d'oeuvres.
Pre-Paid Gratuities: Your Quacker Cruise pricing will include your basic stateroom attendant gratuities and your traditional dining room gratuities (for your head waiter, assistant waiter, and maitre d') so you don't have to worry at the end of the cruise. This is a $68.25 to $84.00 per person value...included in your price!
Over $550.00 per person in added gifts and amenities!
With all the special additions that are only for the Quacker Cruise guests, your value is bigger than any other cruise vacation you might experience anywhere else. Only guests who book the Quacker Cruise will be allowed into special events and receive the exclusive gift packages.
Join the Quacker Factory for the fun, relaxation, laughter, love, and the time of your life. You deserve it! In the memory of Jeanne Bice, "Happy is going to happen!"