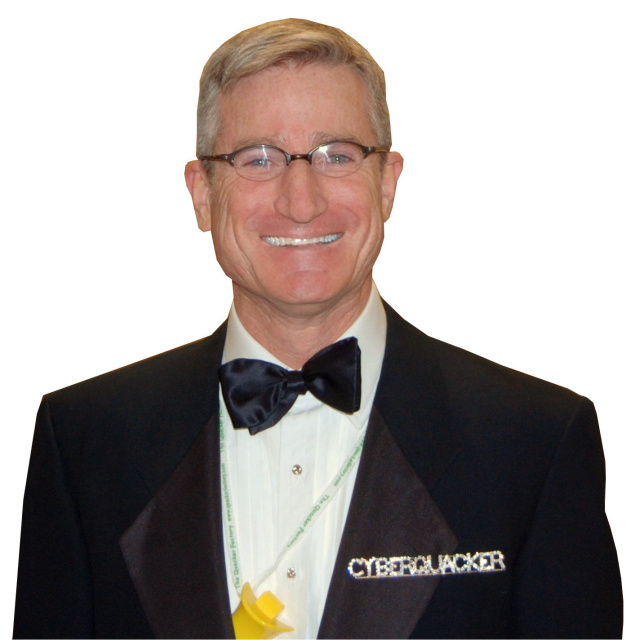 - From an email dated January 24, 2011
Hello Ladies! I promised a detailed review of our cruise from December – so here goes!
As most of you know, I had the pleasure of going on the Oasis of the Seas this last December. This is the exact same cruise ship that we'll all be on in October with Jeanne Bice!!! Before I even get into the details, let me tell you that this is one great ship – and we're going to have a super time in October!!!
Not only was I fortunate enough to spend the whole week with Lee Bice, but a few of the Quackers and their Drakes where with us on the ship in December. Barb, Linda, Doreen, Eve & Bill, and Betty & Bill joined us! Also travelling with us was David Fritz and a whole bunch of his fun clients, friends and family. My lovely partner SJ, and my mother Ann and her best friend Adelaide, along with two close friends (Chris & Paul) from London came with us as well. While this group wasn't nearly as large as the group that will be sailing in October, we somehow managed to take over the ship and have a great week together!
The night before we boarded the ship, the lovely Jeanne and Lee hosted a party at Jeanne's house – and boy, what a way that was to kick off the week! Most of you saw Jeanne's house a few years ago at Thanksgiving when QVC did a live broadcast from there. Well let me tell you, it's even better in person!! And to top it all off, Jeanne had it decorated from corner to corner for Christmas – it was beautiful! There were Christmas trees everywhere. They had to drag me out at the end of the night. Jeanne might be worried about inviting me again – because I don't think I will ever leave the place if they let me back in!!! The food was fantastic and it was a great way for all of us to get to know each other better before heading away for a week.
On Saturday, I had breakfast with my family and friends and then we headed over to the port and the ship at about 2:00 pm. I know a lot of people like to get there earlier than that, but I wanted to ensure that we didn't have to wait in long lines and also that our cabin would be ready as soon as we got on the ship. And guess what – all of that was true when we arrived at the security and check-in counters. It took no longer than 15 minutes to get through security and checked in – very quick! The terminal is specifically built for the Oasis and it is beautiful and very efficient. Before going on the gangway to enter our new 'home' for the week, we made sure to get a group photo. It's very important to note that this initial picture is actually a very important picture – and you shouldn't miss out on getting it taken – even if you don't plan on buying it on the cruise. The reason is because Royal Caribbean uses some great new technology – and that picture uses facial recognition software – and that means that any other pictures taken of you during the week 'recognize' you and then are electronically filed for your viewing at any time on computers in the photo gallery of the ship. Say goodbye to spending hours looking for your pictures on a wall – all you do on Oasis is put your photo ID number (located on your key card) into the computer, and bam, all of the pictures taken of you are displayed – how cool is that?!
Let me tell you, nothing could have prepared me for the wow factor I had when we crossed the gangway and entered into the main indoor Promenade level of the ship – it is BIG and it is amazing – and so beautiful and VERY clean! Because it was just before Christmas and Chanukah, we were greeted with a huge Christmas tree and a Menorah. There was a line of staff waiting to greet us – my first impression was great and I just knew from the greeting that this was going to be one great week. On the main promenade, there are wonderful stores, cafes, restaurants, bars – even an antique car – a car parked inside the promenade!! There was so much to see that I didn't even know where to begin! As I looked at everyone else, they were all doing what I was doing – just standing there with their mouths open in disbelief! We finally regained composure and went to find our rooms. Because of some great technology and also the wonderful and easy layout of the ship, it wasn't hard to navigate ourselves to the rooms – or anywhere else on the ship for that matter. I've stayed on smaller ships that were more confusing to get around. Our rooms were ready and we were able to check right into them.
Probably the best thing for me to do now is to break this email down into sections – i.e. cabins, entertainment, food, ports, etc. I'll do my best to remember as much as I can for all of you.
CABINS:
Because it was my partners first time on a Caribbean cruise, I felt it was important to get an ocean view room with a balcony – and I'm glad we did. It was so nice to open up the window every morning and have coffee and tea on the balcony – and to see the sun. (Remember, we live in London and barely ever get to see the sun!) The room was very nice and extremely comfortable. In fact, the bed was the BEST bed I have ever slept on on a cruise before – heavenly! Lots of support and comfy pillows. The cabin is about the same size as others in that category on similar ships – but laid out very well and QUIET. We never heard our neighbours. We also liked the small sofa and the flat screen TV. We were able to catch up with the news and the usual Hollywood gossip. There is a small refrigerator with mini-bar treats in it – we didn't want to be tempted by the treats, so we asked them to remove them – which they did – and we used the refrigerator to keep the sodas we bought on land cold. One of the nicest things about the cabin was the bathroom. While it's not much bigger than other ships, it was bigger where it mattered. The shower is much bigger than the Princess cruise we were on for the last Quacker cruise. And there is no shower curtain – rather a curved/rounded door that makes the shower have more space in it when you're in it. That also means no wet and clingy shower curtain sticking to you while you're showering – one thing I hate! J You ladies will also probably like the fact that there is a little foot rest ledge in the shower – which means that shaving your legs in the shower just got easier – it's the little touches like that that make all the difference when you're on holiday! Plus, the area around the toilet is bigger than on the Princess ship – so you don't feel wedged between the wall and the toilet when you're sitting on it!!! And the pressure and the supply of hot water in the shower was the best that I've experienced. Our cabin steward was fantastic – I don't know how he did it, but every time we took a shower, when we came back to the cabin, we had fresh towels – that was very nice. I had the chance to see some of the suites – and they are absolutely amazing. If you have the money to splurge on a suite, I would recommend it – especially the 'loft suites' – they have two levels and were beautiful. Plus, if you're in a suite, they have a private concierge lounge just for the suite guests – pure pampering at its best!
FOOD:
This is always my favourite when cruising – and Royal Caribbean didn't let us down! Wait until you see the main dining room – The Opus – it's big and amazing and so beautiful. The staff was great and so was the food! I have never eaten so much in my life! We were at a table for 6 and it was so nice. My two friends from London had never been on a cruise before and they were amazed at how good the food was – especially for a cruise with over 5,000 people on it. There were also amazed that they were allowed to order as much as they wanted – and trust me, they put that to the test starting on the first night! When we had finished our starters, soups, salads and main courses, our wonderful waiter came over to take our dessert order. My friend Chris had eaten the prime rib but had noticed that there was a 2nd steak on the menu as well. When he enquired about it, the waiter had one brought over, cooked just the way Chris likes it, within 3 minutes – and guess what, Chris ate the whole thing – with a little help from me! The food was so good, that there really was no reason to pay extra and eat in any of the specialty restaurants – but we did. (More on that in a minute.) Desserts were also great every night – and trust me, between the 6 of us, we tried them all! The staff was great with any special requests and they always had smiles on their faces. My birthday was during the cruise, so on the last formal night, my mother surprised me and they brought out a cake with my name on it – several waiters brought it over and were all singing – it was wonderful. Nothing seemed to faze the dining room staff at all. I only had one thing that I didn't like the whole week we were on the cruise – it was a soup and it was rather bland for my liking. Our waiter noticed that I hadn't eaten all of it and discreetly asked me if there was a problem. I told him that it wasn't that tasty to me and within minutes he had another starter brought to me – great service. And if the soup was the only thing I didn't like the whole week, I think those are pretty good odds! We were at the 2nd seating for dinner and we were never rushed. Oh yea, I forgot to mention that you can see the menus for each night of the week on your TV in your cabin – for the whole week! I found that on the first night on the cruise and looked at our menus for the whole week – so I knew what to expect and also what I wanted to order each night. And on lobster night I have to admit that I got a little out of hand – I had THREE lobster tails that night!!! My mother was shocked! The dining room is open for breakfast and lunch every day – and it's open seating at those meals – which means that you'll have a different waiter and also will sit at a different table with others – which I always find quite fun because it allows you to sit with other friends – and also meet new friends. We did however like our dinner waiter so much, that we would find him during lunch and request to sit at his table. Like Princess, Oasis has a restaurant buffet upstairs near the pools. It's a good buffet with fantastic foods from all over the world – but (this is my only downside with Oasis) that buffet restaurant was always busy and there never seemed to be enough tables. I like breakfast buffets, but let me tell you, I actually enjoyed eating breakfast and lunch in the main dining room. There was never a wait – and you know what, it was wonderful to be waited on hand and foot rather than standing in a buffet line. Plus, the lunch selections were amazing in the main restaurant with so much choice. Plus, they had a fantastic salad bar set up. Another GREAT restaurant for breakfast and lunch was in the Central Park section called Park Café – there is no extra cost to eat in this deli like restaurant. For breakfast they have a bagel bar and the best breakfast sandwiches on the seas. And for lunch, they have an amazing roast beef sandwich – we ended up eating there several times – don't miss this little hidden gem. And while Johnny Rockets charges a surcharge for lunch and dinner, breakfast is free – and it's right next to the merry-go-round. There is also a pizza place on the promenade deck that's open until 3:00 am – and it's free pizza – you can't beat that! Also on the Promenade deck is the Café Promenade – they have wonderful little croissant sandwiches and other snacks that are included in the price – and they have little café tables out front where you can sit for hours and watch everyone walking by – just like in Paris – I have a strong feeling that a lot of you will make that your home base – because it seems that everyone passes by there throughout the day. So much so, that we never were without seeing friends for too long – surprising for such a big ship. The space in all the dining areas and in fact, throughout the ship, was good and wide – which is important since some of our Quackers travel with their on transportation. J I found the hallways to be slightly wider than other ships – not surprising for the worlds largest cruise ship. We did eat at one of the speciality restaurants – Chops Grill. There is a $25.00 surcharge for this restaurant, and it was worth every penny. The steaks were fantastic and so was every other piece of food from there – especially the mud pie dessert – I'm getting hungry now just remembering it! The room is beautiful as well – very warm and elegant. We didn't eat at any of the other specialty restaurants because, as I said, the food in the main dining room was so darn good. But, we know a lot of you like to try the speciality restaurants, so you can thank Lee, Doreen, Barb, Linda, Eve and Bill for trying the others out – in fact, I think they tried every single specialty restaurant on board the ship!! They wanted to make sure they could make some recommendations to everyone in October. From what they told me, the Italian restaurant, Giovanni's Table, was amazing – and worth the visit. It too is located in the Central Park area of the ship. And trust me, you'll definitely want to spend some time in Central Park – it's beautiful and full of plants and trees – wait until you see it – amazing that it's on a ship – and so peaceful and calming – I spent a few afternoons just reading a book in this area. If you're coming on the cruise to eat – you won't be disappointed!!!
ENTERTAINMENT:
The shows on Oasis are the BEST that I have seen on any cruise ship – seriously! Top-Notch! The only difference on the Oasis is that not all of the shows are always after dinner. As those of you have cruised before know, they usually do two shows every night on cruises after dinner – one for the early seating and another for the last seating. This is not the case on Oasis. Because there are so many passengers on board, I think they have wanted to keep the theatres more intimate – which is great in my opinion because I never sat in a bad seat the whole week we were sailing. Plus, there are SO many different theatre venues on board – ice skating rink and theatre, diving theatre, main theatre, comedy theatre, etc. About two months before the cruise sets sail, they open up reservations for the shows via your on-line account – which makes it SO easy. And they are pretty good about not having shows at times when you're in port. I found it nice to break up the days with seeing the shows – it gave me a chance to see other people in our group. It also gave us much more time after dinner to all get together and do what we wanted to together at the different bars, clubs, library, etc. There are so many different clubs/bars on board – all of them so friendly and full of fun people – karaoke bar, piano bar, salsa and country dancing bar, disco bar, etc – you'll be really spoilt for choice in finding entertaining places after dinner to gather with old and new friends! Some of the shows DO happen after dinner, but not all of them.
They have the only diving show at sea and it's at the back on the ship in an outdoor theatre – great costumes and seriously professional divers – combine that with beautiful music and a show theme and you have a great show. We saw this show on our first night and it was a great kick-off for the rest of the shows. I felt like I had ring-side seats at the Olympic diving competition! And the weather was perfect for sitting under the stars in the Caribbean to see this outdoor show. They even had lap blankets if people wanted to use them. On Sunday we saw the ice skating show – and ladies, you are in for a treat with this one. (I'm not going to spoil the surprise – but this one will have special meaning to our group!) On Monday afternoon, we broke up the day and saw a fantastic and full-scaled version of the Broadway musical Hairspray! This production was AMAZING!!! I've seen the show in NYC and London several times and this cast was just as good – the sets were incredible and the costumes were great – I can't wait to see it again in October! My mother really enjoyed this one and we were dancing for the rest of the day! On Tuesday night after dinner, we saw the Headliners Show – which on our cruise (it changes every cruise with guests artists) was a tribute look-alike band of Abba. I LOVE Abba music, so this was just too much fun! Everyone went down to sing Abba songs in the Karaoke bar afterwards! On Wednesday night we saw the comedy show – and it was too funny! It's an adult's only show, so it gets a little risqué, but I haven't laughed out loud like that in a long time! Lee Bice and I were practically crying, it was so funny! We didn't have a show on Thursday, so it was wonderful to spend free time with new friends. I think that was St. Thomas day, so that was a lot of fun. (More on that in a bit.) Friday was our 6th and final show and that was back in the beautiful main theatre and the show was called Come Fly with Me. It's Royal Caribbean's take on Cirque Du Solie – and boy was it GREAT! Because this is a new ship, they were able to design and build the theatre exactly how they wanted to for this show – and they did a fantastic job with it. This is a magical show and I don't want to give anymore away – but trust me, you will LOVE this one!
All 6 shows were incredible. One of my friends on the ship from Boston said she really was amazed at the quality of each and every show. She goes to Broadway quite a bit and said that each of those shows alone would have cost over $100 per ticket – so she felt as though she had £600 added value included within this cruise – I have to agree with her!
Besides the shows, the ship does the usual bingo games and other day-time activities. And at night on the main Promenade area, they did a few nights of specifically themed Street Parties – and these were fun! The entire entertainment staff, including the wonderful cruise director, puts on a theme party and all of the passengers are invited to join in the dancing. One night was a Mardis Gras theme and they were throwing beads – I felt like I was in New Orleans. And on another night, they had a disco party – boy, was that fun!!!
There are lots of other activities during the day as well. Doreen went to jewellery and bead making classes and really enjoyed those. They even had cupcake making classes! There was also a beautiful wine bar in the Central Park area that you could pay a nominal fee and go to wine tasting classes. My mother and Adelaide went to several of the wine tastings and really enjoyed them. Trust me, there is PLENTY to do on this ship. I'm glad I'm going back in October because there is STILL stuff that I want to do on the Oasis!
And of course there is a casino for those Quackers who like to gamble – and this casino is BIG! I'm not a gambler myself, but I so enjoyed walking through the casino at night and watching everyone having fun. The bells were ringing and it was fun to throw some luck to our friends who were gambling.
PORTS OF CALL:
There are three ports of call on the Oasis. Nassau, St. Thomas and St. Martins. I am not a big fan of Nassau and the Bahamas. I've been a few times and just don't like the island that much – I think there are far better islands in the Caribbean – especially St. Thomas and St. Martins. As such, my partner and I decided not to get off the ship at Nassau. The ship was in Nassau on Sunday, our first full day on the cruise. Since we don't see much sun in London, we wanted to get a good start on our tans – and since so many got off the ship, we were able to find great seats by one of the many pools. My mother and her best friend Adelaide got off the ship in Nassau, but when they got back, they said they wished they had stayed on board and hung out with new friends – there just weren't any deals on the island and it was crowded. St. Thomas, on the other hand, is GREAT! In my opinion, this is THE island to do your shopping. I went into town with Mom and Adelaide and we had so much fun. The people are very friendly and because of the connection with the US, there are better tax benefits for deals on St. Thomas – and I think you're allowed to increase the amount you bring back into the US if you purchased your goods specifically on St. Thomas. We even had lunch at a cute local restaurant – there are so many to choose from on St. Thomas. St. Martins was fun as well – and good shopping too.
Because there are only 3 ports of call on the Oasis, that means there are more days at sea – which I personally loved – and I think all of you will love this as well because it means that we are all together and can spend more one-on-one and small group time together. I had so much fun catching up with old friends and getting to know new friends better – and that would have been much harder to do had we been in and out of ports everyday. Plus, it meant I didn't have to spend extra money on food in the ports – because it's all included when you're on the cruise ship!! J Plus, there is an adults only pool and relaxation area at the very front of the ship – and it's beautiful – and so peaceful. There are two giant hot tubs for adults only at this end of the ship – and each hot tub can accommodate about 20 people each – seriously! They have nice seating and lounge chairs in this adults-only area – if I couldn't find Mom, I always knew she would be up there reading a book. So on the days at sea, this is where I recommend hanging out!
Oh gosh, I've just realized how long this email is!!! I better stop now because I don't want to give away everything – otherwise you won't be as surprised as we were when we got on the ship! Plus, it's so much fun discovering the ship those first few days on board! What I will say is that the debarkation was as easy as any ship I've ever travelled – Royal Caribbean has it down to an art and a science. We had breakfast in the main restaurant on our last morning and then went immediately to our waiting area and were off the ship about 20 minutes later. Easy and no stress!
Well, if you can't tell, I LOVED the cruise! My only disappointment was that the week went by far too quickly! But I'm very grateful that I get to do it all again in October – and with all of you!!!!! I've been told about a couple of the things that Jeanne and her dream team have planned for you – but don't ask, because I'm not giving anything away! Trust me though, you're going to have a very special and fun and happy week!!! If you haven't called Scott yet, make sure you do – he is so good at answering any questions you may have about the cruise – plus, he's such a nice guy! J I spoke to David the other day and he said that there are still some places on the Quacker Cruise, so make sure to call with any questions you might have.
I'm looking SO forward to spending a whole week with all of you!
Quacker hugs and love to you all!!!
Xx
Patrick